Executive summary
LaRaksha, an NGO-MFI provides smart roofing and housing loans to people who live in rural areas and are below the poverty line. This case study details the story of Amuthavalli Vairakannu and her family in the pursuit of getting a secure roof for their home. The family approached LaRaksha after they saw flyers and posters that were distributed and posted by LaRaksha's Business Associates. A loan was disbursed to the family after reviewing and analysing their profile, and also walked them through and educated them on the necessary steps to be followed while constructing their roof. They also provided training to the contractors to ensure that the construction takes place smoothly.
Introduction
About Habitat for Humanity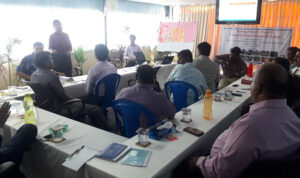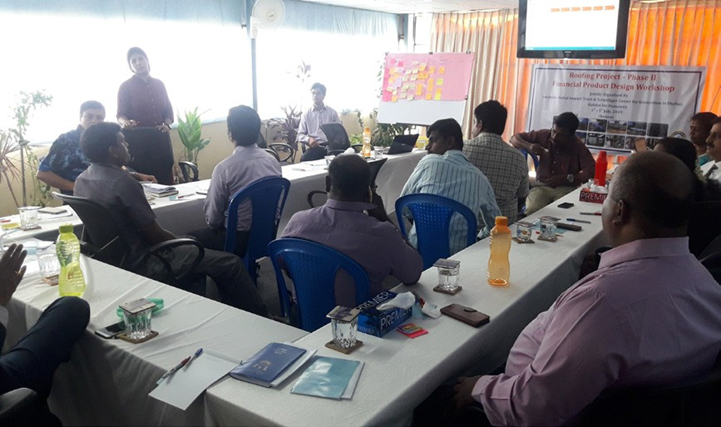 Driven by the vision that everyone needs a decent place to live, Habitat for Humanity began in 1976 as a grassroots effort and has since grown to become a leading global non-profit, working in more than 70 countries. In the Asia-Pacific region since 1983, Habitat for Humanity has supported millions of people to build or improve a place they can call home. Through financial support, volunteering, or adding a voice to support affordable housing, everyone can help families achieve the strength, stability, and self-reliance they need to build better lives for themselves. To learn more, donate or volunteer, visit habitat.org/asiapacific.
About Habitat's Terwilliger Center for Innovation in Shelter
Through the Terwilliger Center for Innovation in Shelter, Habitat for Humanity explores strategies for improving low-income house- holds' access to affordable financing, quality labour, and materials – all core elements, and often constraints, in a household's ability to access adequate shelter. To address these market constraints, the Terwilliger Center focuses on
making building materials and housing finance solutions accessible, available and affordable, improving construction labor markets and practices, and creating a thriving ecosystem for innovation and affordable housing entrepreneurs. To learn more, visit habitat.org/tcis.
LaRaksha
LaRaksha was conceptualized by Mr. A Ramesh Kumar and Mrs. Usha Ramesh Kumar to devote themselves to the upliftment of rural and semi-urban economically backward families through financial assistance for education, vocational training, micro-enterprise, household infrastructure, purified water, and health care. Mr. Ramesh Kumar, a pioneer in rural microfinance in India, having worked for over three decades in the banking industry, and associated for about a decade with organizations that focus on rural development, housing microfinance, etc. finds himself drawn to the cause of financing the rural and semi-urban community that is otherwise often ignored in the financial policy of banks and larger financial institutions. LaRaksha is currently operational in Tamil Nadu, West Bengal, and Manipur and is looking at expanding to Karnataka, Odisha, Telangana, Maharashtra, Tripura, Assam, and Mizoram in the coming financial year.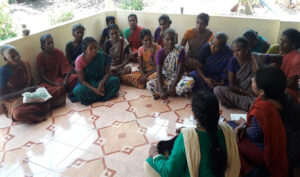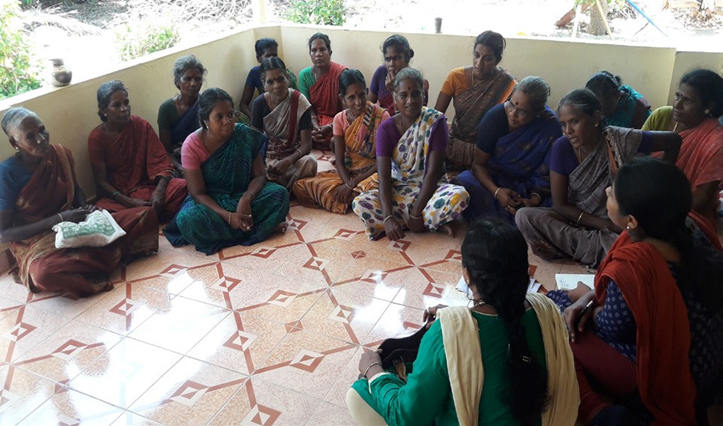 LaRaksha's vision and mission is to provide opportunities to rural households that lack access to financial support to become self-sufficient and sustainable enough to lift themselves out of poverty. They work to design and deliver innovative financial solutions to address the above unmet needs, particularly for weaker sections of society in rural and semi-urban areas.
One of the clients of LaRaksha was a family of four. The members of the family are Mr. Vairakannu, aged 68, his wife Mrs. Amuthavalli Vairakannu, aged 54, and their children Mr. Ezhilarasan, aged 35, and Ms. Gomathi, aged 25. Mr. Vairakannu is a retired Headmaster at a Government school and earns a monthly pension of ₹ 35,000, Mrs. Amuthavalli is a housewife, their son works as a teacher in a Government school and their daughter is studying for the Tamil Nadu Public Service Commission.
The family had been staying in their house with a thatched roof for over 11 years and wanted to renovate their roof which was in bad shape due to wear and tear. They were also facing issues with leakages during monsoons and problems with insects that used to get in through their thatched roof. However, they couldn't do so on their own due to their lack of financial ability.
LaRaksha started off with an analysis of their existing roof. They developed a comprehensive, safe and economical design concept so that they could build a strong roof that could resist high winds, heat, noise and rains which could protect them for a longer time.
LaRaksha directly visited the family when contacted, and explained the product and process.
When the Vairakannu family saw that the product matched their requirements, they provided the required documents.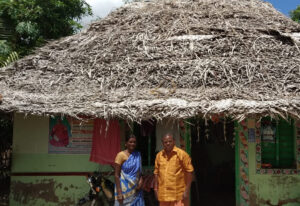 A loan of ₹1,00,000 was applied for by Mrs. Amuthavalli. Once the documents were pro- vided, a credit bureau report was generated for her. The Credit Officer visited their house to check and assess all their requirements and their eligibility for the loan. Once he and the Central Credit team analyzed the documents and found them eligible for a loan of a lower amount, which could meet the requirement of replacing their thatched roof with a clay-tiled roof, they were sanctioned a loan of ₹54,000.
LaRaksha also helped provide the family with information on quality roofing solutions and gave the appropriate training, through the LaRaksha Engineer, on work practices during clay tile installation to both the family as well as the roofing contractors. Efficient practices were used to ensure the longevity of the roofing in addition to the roof being of good quality. LaRaksha played a prominent role in the family's dream of having a secure house and permanent roofing structure for their house by giving them a roofing loan. 50% of the loan was initially disbursed to the family as the first tranche. Using this amount, they purchased roofing materials and began construction of the same. Once this was verified, the second tranche of the loan amount ₹27,000 was also disbursed.
The family also benefited and became proud owners of a structured roofing home because they were guided on what to do properly by LaRaksha. Additionally, the family finally also achieved relief during the ensuing monsoon season from water leaking into their house, relief from insects entering their house, and also an increase in the stature of living in their locality.
Conclusion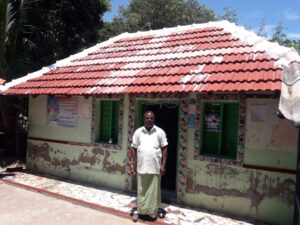 The development of good, affordable rural housing can improve the lives of those with inadequate shelter, while at the same time benefiting the local economy. The economic impact and effect of developing housing extends beyond the construction stage well into the years when the new homes or rental units are occupied by rural residents. Making a good roofing finance solution accessible to people with lower incomes in rural areas helps families who may not be able to construct a new house to improve the quality of their shelter. This also encourages others in the community to take care of their own properties and common areas, ultimately stabilizing an area socially and reducing crime rates. Finally, new construction in
rural areas often trigger infrastructure improvements like paved roads, electrification, and water/sewer lines which encourage further housing development. An abundance of new housing can lower the cost of living of a community, making it attractive to new residents and industries, thus increasing the overall standard of living of the people who live in low-income communities. The exact economic impact of a project cannot be predicted without a detailed study of these individual circumstances, but it is clear that the development of rural housing has the potential not only to benefit those that receive the new dwellings but to improve the economy of the entire community