Executive Summary
We believe that strong and safe housing goes a long way in building communities. Housing has many attributes that are influential in people's lives: physical, financial, locational, spatial, psychological, and environmental. Although none of these attributes in themselves are automatic justification for government assistance and intervention in housing, they do illustrate that there are many aspects of housing that can be instrumental in the health and well-being of individuals and communities, in the successful operation of the economy and many aspects of the social and cultural attributes of society. A strong and secure roof makes a mammoth difference in the lives of marginalized communities giving them security and better hope for the future.
Poverty damages the educational potential of children, whether through stress or poor diet, while over- crowded, poor-quality housing has the same impact too.

– Owen Jones, British columnist
Introduction
About Habitat for Humanity
Driven by the vision that everyone needs a decent place to live, Habitat for Humanity began in 1976 as a grassroots effort and has since grown to become a leading global non-profit, working in more than 70 countries. In the Asia-Pacific region since 1983, Habitat for Humani- ty has supported millions of people to build or improve a place they can call home. Through fi- nancial support, volunteering, or adding a voice to support affordable housing, everyone can help families achieve the strength, stability, and self-reliance they need to build better lives for themselves. To learn more, donate or volunteer, visit habitat.org/asiapacific.
About Habitat's Terwilliger Center for Innovation in Shelter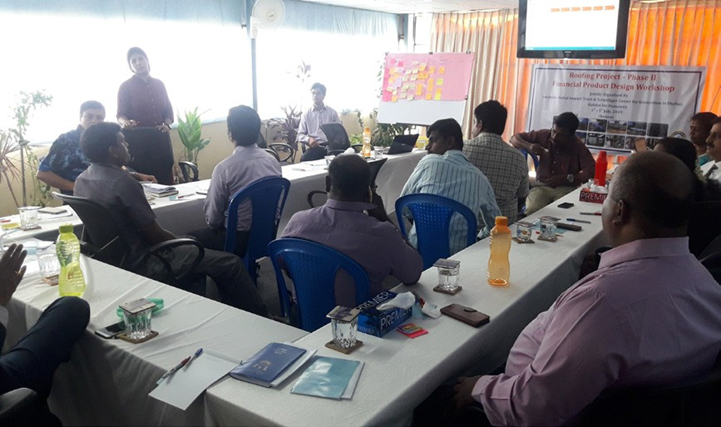 Through the Terwilliger Center for Innovation in Shelter, Habitat for Humanity explores strategies for improving low-income households' access to affordable financing, quality labour and materials – all core elements, and often constraints, in a household's ability to access adequate shelter. To address these market constraints, the Terwilliger Center focuses on making building materials and housing finance solutions accessible, available and affordable,
improving construction labour markets and practices, and creating a thriving ecosystem for innovation and affordable housing entrepreneurs. To learn more, visit habitat.org/tcis.
LaRaksha
LaRaksha was conceptualised by Mr. A Ramesh Kumar and Mrs. Usha Ramesh Kumar to devote themselves to the upliftment of rural and semi-urban economically backward fami-
lies. Laraksha has been providing financial assistance for education, vocational train- ing, micro-enterprise, household infra- structure, purified water, and health care. Mr. Ramesh Kumar, a pioneer in rural mi- crofinance in India, having worked for over three decades in the banking industry, and associated for about a decade with orga- nizations that focus on rural development, housing microfinance, etc. finds himself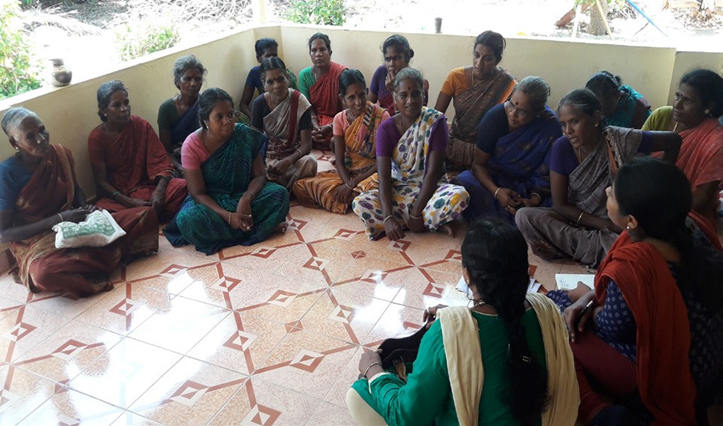 drawn to the cause of financing the rural and semi-urban community that is otherwise often ignored in the financial policy of banks and larger financial institutions. LaRaksha is currently operational in Tamil Nadu, West Bengal, and Manipur and is looking at expanding to Karna- taka, Odisha, Telangana, Maharashtra, Tripura, Assam, and Mizoram in the coming financial year.
Housing
The UN-Habitat (United Nations Human Settlements Programme) states: "By the beginning of the third millennium, it is estimated that 1.1 billion people live in inadequate housing condi- tions in urban areas alone. In many cities of developing countries, more than half of the popu- lation live in informal settlements, without the security of tenure and in conditions that can be described as life and health-threatening. Among an estimated 100 million homeless people around the world, available data suggest that increasing proportions are women and chil- dren."
A house is not just a building. It is a home—a place that shelters, protects, and nurtures its occupants. It supports their personal and professional development and offers a safe space. Quality and affordable housing development are extremely important for millions of people throughout the world. When individuals and families have access to stable, quality affordable housing, they can become part of a diverse community, find and keep jobs, lead healthier lives, and take better care of their children.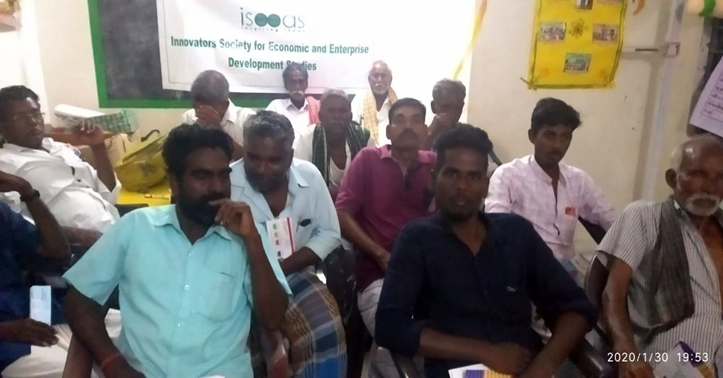 The unorganized workers form an overwhelming majority of the Indian workforce. Most of them are people from marginalised communities with irregular incomes with little or no access to the formal banking system. Everyone has the right to adequate housing, which means more than just four walls and a roof over one's head. Housing is essential to meet basic needs, such as being sheltered from weather conditions. It should offer people a suitable place to rest, where they are free of hazards. Housing should give a sense of personal securi- ty, privacy, and personal space. Finally, housing is import- ant to satisfy other essential needs, such as having a family. All these elements make a "house" a "home" and are in- trinsically valuable to people.
Housing, we know, is much more than just having a roof over one's head. The most important thing affordable housing provides is hope and the possibility of a better life.
LaRaksha, a Habitat for Humanity partner, has been working with various underprivileged communities providing them with financial assistance to improve housing conditions. They have been working on developing a "dedicated Roofing Finance solution" focussed on vulnerable rural families without a permanent roof who do not have the wherewithal to go for the construction of a new house. One such community that they are working with is the salt pan workers. India is one of the largest salt-producing countries in the world. As salt panning is mostly an unorganized sector, workers are exploited, with the seasonal nature and lack of job security adding to their woes.
Mrs. Pakkiriammal Periasamy Keelarmugakattalai hails from Vedaranyam, a town in the Nagapattinam District of Tamil Nadu. She and her family have been working in the salt pan industry for decades. The primary economic activities of the region are salt manufacturing, fishing, saltwater prawn culture, and agriculture. Salt extraction is one of the primary economic activities of the Vedaranyam region of Nagapattinam district, where salt is produced from about 10400 acres. Adverse working conditions and financial insecurity are the main problems in the lives of the salt pan workers face in their everyday lives. The work is very labor- in- tensive and physically draining, with no provision for using machines in their day-to-day work, unlike agriculture which has un- dergone a revolution of sorts by the use of machines like tractors, harvesting and threshing machines, etc.
Mrs. Pakkiriammal along with her husband Mr. Periasamy works in the salt pans while their son Tamilarasan works as a construction worker. It's not just the hot arid pans that the workers have to brave daily, the hours of handling saltwater harden the soles of their feet. The razor-sharp salt crystals leave the workers with scarred soles and palms, but they ignore the burning pain and continue working because the wages are paid on a daily basis, and they cannot afford to take medical leave for which they would receive no compensation. 'Every minute lost means less salt collected, which means less money paid by the contractor,' Pakkiriammal being a woman is also paid less, as men get paid three times the amount for doing the same work as women.
India has been witnessing increasingly more intense and frequent climatic events and climate-induced natural disasters in recent times. The country's fragile coastal dwellings are particularly vulnerable. Intense cyclones such as the Fani, Gaja, and Hudhud as well as severe floods have caused massive devastation to its coastal states of Odisha, Andhra Pradesh, Tamil Nadu, and Kerala respectively. As a result of population growth, urbanization, and a movement towards the coast, the vulnerability of coastal areas has greatly increased. Most houses in the coastal hamlets have thatched roofs that get destroyed by the rains and strong winds and require frequent repairs and replacement. The main impacts of tropical storms and cyclones are high winds, high waves, storm surges, and heavy rainfall. The high winds result in damage to coastal ecosystems e.g. houses, buildings, and infrastructure; the storm surge increases the coastal damage; the heavy rainfall causes flooding. The high
winds cause particular damage to buildings especially roofs, utility transmission lines, and trees. After a storm has passed, there is damage seen with fallen trees sometimes onto roofs, torn roofs, and damage to houses along the coast. Over the years there have been Tsunamis to storms and floods in the area. Thus, the need for safe and durable roofing solutions had increasingly become a necessity for Pakkiriammal and her family. The right to a dignified and secure life free of the threat of disease, displacement, and risk of death is central to their lives. Due to financial constraints, they have not been able to build a permanent house and continue to live in a dilapidated thatched house worn out by unkind weather conditions. Moreover, they spent Rs.25000 annually to replace the straw on the roof. It is the bridge between the right to adequate housing and the right to a life of dignity and security that makes a permanent structure for houses so important.
For over five years they went from pillar to post, trying to arrange for funds for building a permanent house but were always met at a dead end. Around this time, they came across LaRaksha who were working in the same area and offering a novel Roofing Loan. They approached them for a loan towards building a permanent roof for their house. Innovative Microfinance institutions are important for an economy like India's, where more than 80 percent of people work in the informal sector. Services of local banks are not easily accessible for low-income families working in the informal sector. In most cases, people do not have the documents re- quired to open an account or for availing of a loan, such as identification cards, proof of income, land documents for collateral, etc. Or they cannot read and write well enough to fill out the paperwork.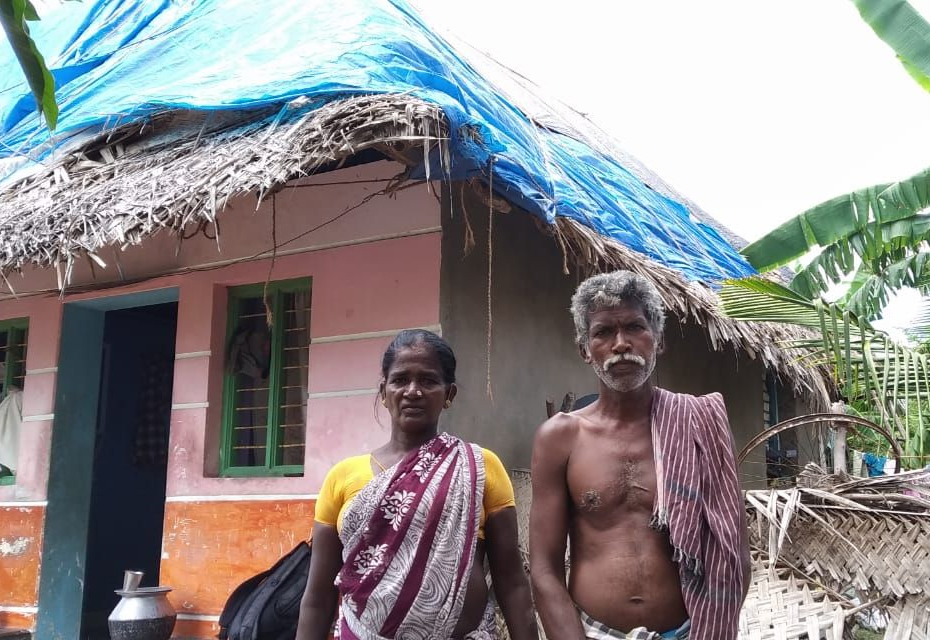 Planning and investing in climate-resilient roofing solutions would yield coastal communities multiple benefits. It would help avoid losses during extreme weather events, unlock development potential, and produce economic, social, and environmental co-benefits. LaRakhsa understood the gaps in the system and has identified the need for strong roofing solutions as well as dedicated loans that are particularly meant for roofing solutions. In addition to the midterm roofing solution, there are also temporary roofing requirements such as waterproofing, minor repairs, and replacement of part roofs to meet the short-term security requirements of the house. There is a lack of awareness about the available solutions for waterproofing.
LaRaksha has always believed in the strength of the community and believed in offering access to financial resources to the poorest of the poor in rural areas. Reaching out to communities, LaRaksha gives utmost priority to the health and happiness of its clients offer- ing the best intervention in areas such as nutrition and health care. These social services not only help clients profit from their loans but also aid in the development of human capital – an important contributor to the alleviation of poverty.
A unique Roofing loan product has been developed to cater to both temporary and longterm roofing requirements of the community. Laraksha also offers training to masons and fabricators to improve their skill set ensuring quality roofing solutions for the community.
As soon as Pakkiriammal and her family approached the LaRaksha team, an assessment of the current house and roofing was done by LaRaksha's in-house Engineer, which was also shared with the family. The team at LaRaksha worked in close coordination with Mrs. Pakkiriammal's family and ensured that all documentation for the loan was done with complete ease and involvement of the family. Once the loan was finalized, the team also worked in tandem to ensure the best roofing solutions would be used for the house. Options were given to the family to understand the various roofing
solutions and what would work best for their environment. A comprehensive, safe, and economical design concept was developed so that the family could build a strong roof to resist storms, heat, sound, and rain. The roofing contractors/local masons were also trained to ensure quality roofing materials and techniques were used for the house. Affordable roofing loans combined with strong, durable, and disaster-resilient roofing solutions have ensured safety from frequent cyclones and damages to the roofs and recurring investments. The roofing solution combined with a loan helped them in changing their thatched roof to a more durable and disaster resilient tiled roof.
From living in constant fear of damaged roofs at the slightest storms and rains, to being able to live in a secure and safe environment, has been a great dream fulfilled for the family. Today Pakkiriammal and her family feel happy and secure living in a Pucca tiled roof house. A per- manent and safe tiled roof over their heads has had a bigger impact on their lives as they have achieved their dream of a safe and secure home. Like Pakkiriammal, others in the neighbour- hood want to replace their thatched roofs with a strong and secure tiled roof. This initiative goes a long way in not just providing loans but building lives!
Conclusion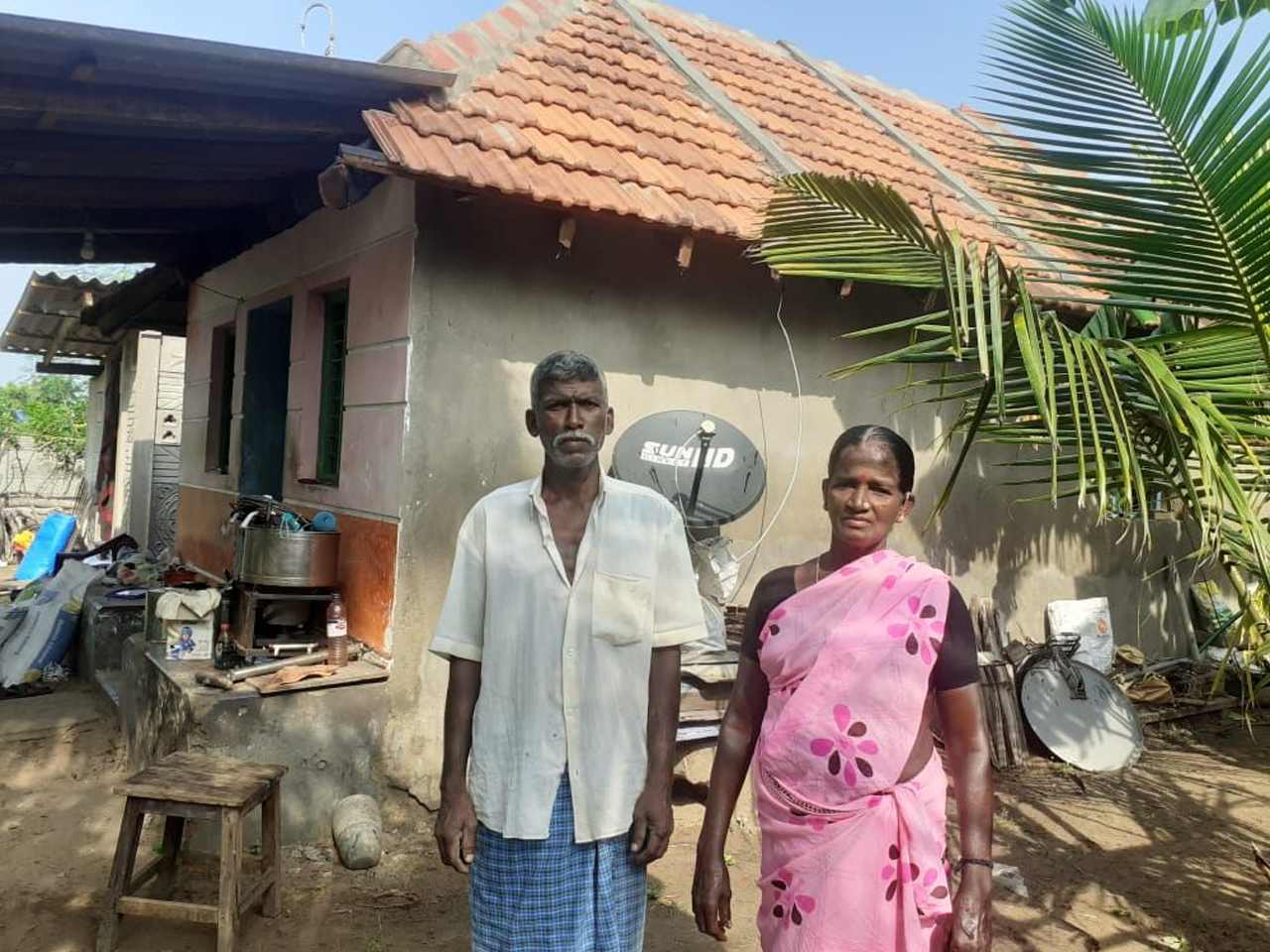 The importance of a safe place to live with human dignity, physical and mental health, and overall quality of life, begins with a house. The knowledge that they have a home to go back to that will safeguard them from rain, sun, wind, and weather boosts their confidence and makes them content For people like Pakkiriammal, a small push in the form of a dedicated Roofing loan went a long way in creating a home for them and protecting them from climatic adversity. They are happier and at least can look forward, at the end of a long and tiring day at work, to go back home and rest in a safer, cleaner, and stronger place they call home. There are many people out there like Pakkiriammal who struggle to get even small loans to build their homes or redo parts of it to make their homes safer and stronger.
LaRaksha is gearing up to help several people living in coastal areas who cannot afford new permanent houses, to improve the quality of their roofs and lives by providing them appropri- ate, cost-effective, and timely roofing loans combined with better roofing solutions with the help of roofing manufacturers, which provide good medium term solutions to improve their habitat.